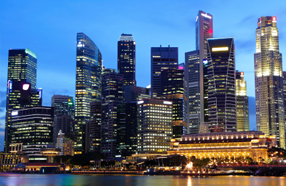 Kenneth Edward Hilborne, an English solicitor, founded Hilborne & Co. on 1st May 1951 when he took over the practice of a solicitor, Mark Morrison.
Hilborne arrived in Singapore in 1947 and practised law here until he retired in 1980 to his homeland England. He passed away in September 2008.
Between 1951 and 1966, the firm took on many names including "Hilborne & Murphy" and "Hilborne & Chung". Over the years, Hilborne Law LLC. has grown into a medium sized law firm dedicated to offering quality and cost efficient legal representation in a wide spectrum of law.
Hilborne Law LLC. has a substantial practice in commercial, matrimonial and personal injury litigation in addition to its corporate, conveyancing and probate practice.
The firm is commited to serving its clients' needs at all times, whether personal or corporate. It is a provider of solutions not just information.